Bucket lists are very personal that require a lot of thought. The point is to experience something fully. Reach beyond your comfort zone and go for it! I've created this bucket list, with much care, focusing on Michigan's Upper Peninsula.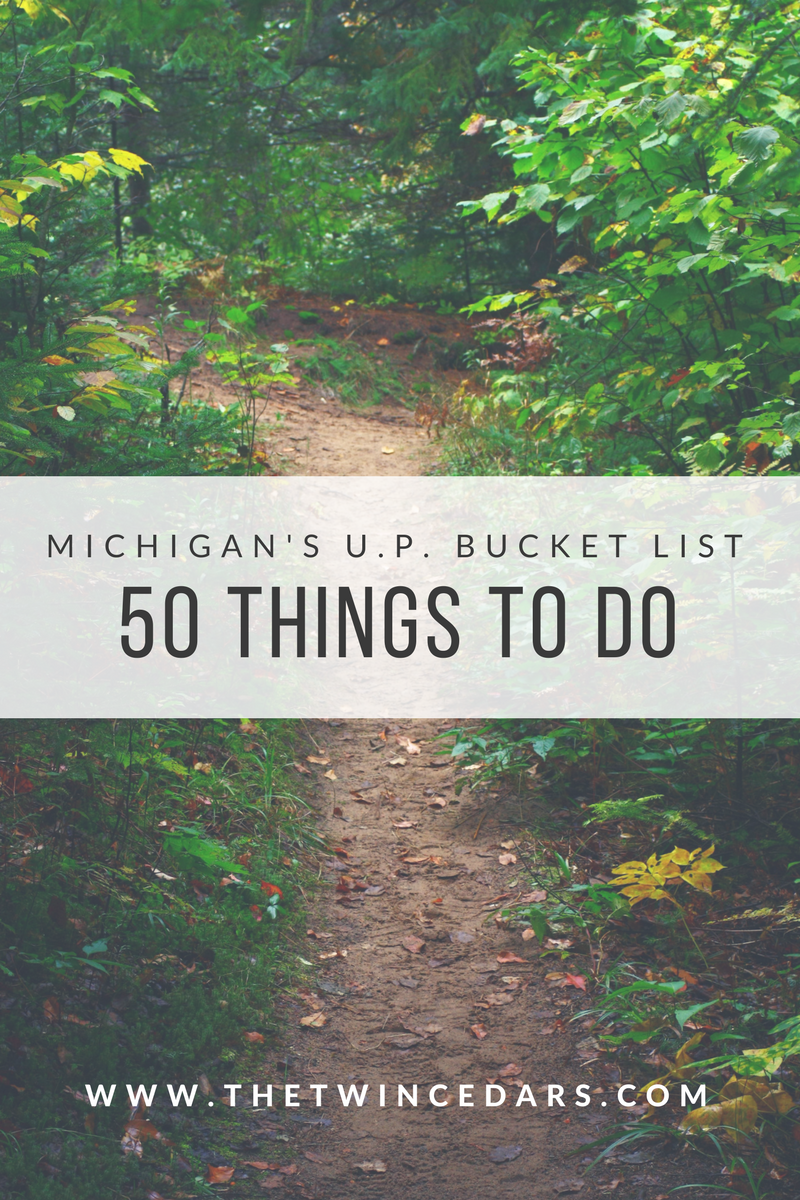 This post contains affiliate links. That means when you click through and make a purchase, The Twin Cedars may receive a small commission at no additional cost to you, which allows us to continue to bring informative and fun content to this webpage for free…we appreciate your support more than you could ever know. Thank you! Full disclosure here.
Not all of these items are appropriate for everyone. It's certainly not "one size fits all." And to be completely honest I'm not even certain I'll be able to complete all 50. But I promise to try, since the whole purpose is to push yourself physically and mentally.
I feel like the older I get the less adventurous I become. Why? I think, like many people, we get comfortable in the routines of life. We choose the things that come easy because we've already done them…it's always easier next time. I'm done living within my bubble!
My friends are sometimes subject to my rantings and speeches about being sick of simply existing. I want to EXPERIENCE! The conclusion that I live where others vacation recently came to me and I realized just how much beauty rests right here in my own backyard. What are we waiting for people?! It's not like I have to travel great distances, hopping flights and packing for a huge endeavor. Yes, the Upper Peninsula is rather large but everything is within driving distance for me. Why not figure out a way to bring it all to you?

I understand that there are people who may read this that likely do not live here, or even close by, but I'd encourage you to consider Michigan's Upper Peninsula for your next big adventure. There are some pretty incredible things here. Things I didn't even realize existed until starting the research on this project.
With each item on my Upper Peninsula bucket list I'll include a short description and as I "check" them off my bucket list, I'll write in more detail about the journey and adventure in a blog post. Those will be in red and clickable so you'll be able to link right to it.
My goal is not just to give you my account of it, but to provide you with insight on whether or not it's worth your time and effort. I'll be including notable side stops along the way like where to eat, cute shops to check out and maybe some mini adventures that will add to your fun.
Are you in?
So here's to the part of this great state that you might've forgot about!


Michigan's Upper Peninsula Bucket List
Most people have seen the spectacular photos but have you ever experienced the Aurora Borealis for yourself? Some of the best views can be found in dark sky areas along Lake Superior and I've recently learned that there's an app for that!
#2 Visit some Ice Caves
I will admittedly say I'm not a fan of winter…I know, weird since I live way up here but I'm trying to learn to love it. Experiencing some of the most amazing views the cold has to offer is exactly what the soul needs to become a believer that the icy season is totally worth it. I'm actually looking forward to bringing out those snowshoes I've had hiding away in my closet for the last 3 years. The most well known are the Eben and Grand Island ice caves.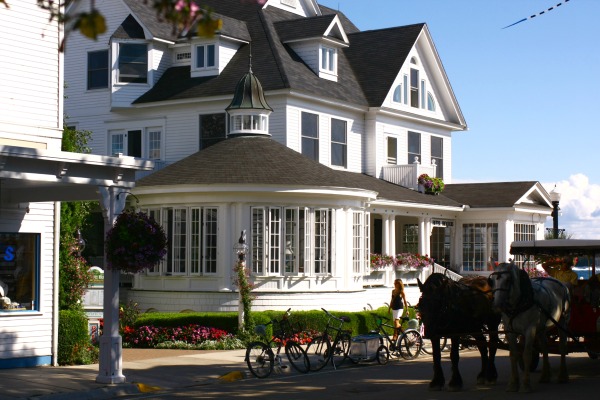 This is sort of an obvious destination on the bucket list, but absolutely essential. Mackinac Island is a world all its own and rich with history. Ask any Michigander and they'll tell you about horse drawn carriages and bicycles as the only form of transportation. No motorized vehicles allowed, which is good since you'll be gorging yourself on the many fudge shop goodies. Before you get there though, make sure you read the 7 Rules to Live by When Visiting Mackinac Island.
#4 Wader fishing
There are so many things on this list that take you near water…we are surrounded by it here in Michigan's Upper Peninsula so may I suggest you get yourself an affordable, waterproof, durable camera. I will also tell you that a decent pair of waders is a must! Whether fishing in a river or one of our great lakes, it's incredible even if you aren't catching anything.
#5 See the Soo Locks, Sault Ste Marie
So I've been told it's a sight to see and I've heard it's dripping with history. Some massive and genius engineering can be witnessed while allowing the passage of 1,000 ft freighters that carry some 72,000 tons of cargo. See the new observation deck and pretty park nearby that's perfect for a picnic.
#6 Climb Castle Rock, St. Ignace
I've actually done this one before but I was so terrified and paralyzed with my fear of heights that I couldn't get a grip and enjoy the view. My goal this time? Conquer that fear, look around and take in those fall colors – cause I'm thinking that could be the best time to go. Spectacular! Also, let's keep in mind that there are much scarier things on this list, this is simply a warm up.
#7 Take a Pictured Rocks kayak tour, Munising
If you live in Michigan and are on Facebook…ok who's not a Facebook yet? I'm certain you've seen someone share a photo or have scrolled passed a promoted post for one of Michigan's Upper Peninsula most notable and recognizable features, Pictured Rocks of Munising.

This little gem is located just west of the Mackinac Bridge on U.S. 2. Seems to me that the best time to go may be in the spring when the new fawns are being bottle fed.
The Upper Peninsula is home to 90 percent of Michigan's entire population of black bears and Oswald's is the largest, bear only ranch in the U.S. Starting as a sanctuary for orphaned cubs it has continued to grow each year.
#10 Garlyn Zoo, Naubinway
Don't expect to see zebra and elephants but this little zoo has a great setting tucked among the pines with wooded trails. Home to some of the Upper Peninsula's native creatures and others including exotics like tigers, lemur and camel.
#11 Do the Mighty Mac Bridge Walk
Every year on Labor Day thousands of people come together to walk the Mackinac Bridge. It used to be the only time one could travel on foot to experience this grand beauty in such a way. They now have the tractor parade, fall bridge race and an ORV drive, among others – learn more here.
#12 Snowmobile the Mackinac Island ice bridge
This has just fascinated me ever since I learned that it existed. The ice bridge is formed between St. Ignace and Mackinac Island. It doesn't form every year because, as you can imagine, the conditions have to be just right. If you're in the area and happen to be riding a snowmobile on one of those "right conditions" kind of day, then perhaps you'll follow the ice bridge and experience Mackinac Island during the winter. *This is at your own risk! Please use common sense! This writer and blog/website takes no responsibility for any loss, injury or incident…whatsoever.
#13 Hike Tahquamenon Falls
Approximately 4.5 miles, this hike is something I've wanted to do for a long time. With Tahquamenon Falls only about 30 minutes from Twin Cedars Resort, I'm not exactly sure what I'm waiting for! Spring will be popping with new life, summer would be luscious, fall simply gorgeous and winter would be a wonderland. Must do! And I just bought these hiking shoes for the adventure:)
#14 Cut River Bridge
A quick stop along your journey on U.S. 2 northwest of St. Ignace. Don't miss the wooden staircase leading to the river below. A little treasure that many of the passing cars are clueless to.
#15 North Country Trail's Niagara Escarpment near Trout Lake
Hike, snowshoe or cross country ski. Connect with nature within 5 minutes from here.
#16 Kayak around Mackinac Island
Yes, the island ends up on this list in several places, but it's just so darn gorgeous that I can't help myself! There are many ways to see it but this seems rather unique and sounds pretty special. There is a tour you can do that I found by simply searching on Trip Advisor.
#17 Zip-lining at the Mystery Spot, St. Ignace
I probably should've been here by now. The Mystery Spot will be a mystery until I visit and I'm not sure what it's all about…mystery? I'm not sure if the zip-line is worth it and I can't say it's something to write home about but I'll be certain to let you all know when I finally just do the thing. I will admit, however, that my fear of heights is already kicking in.
#18 Miner's Falls, Munising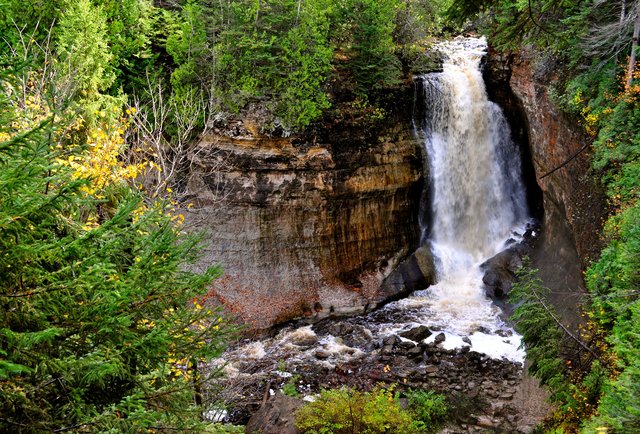 Miners Falls photo via Thrillist
If you're a Michigander you can just feel the natural draw you have to water. Any kind of water. Which is good since we're surrounded by it and since it's said that if you're in Michigan then you can't be any more than 2 miles away from a body of it in any given direction. There are many waterfalls dotted all over the Upper Peninsula and all over this list.
#19 Kitch-Iti-Kipi (The Big Spring), Manistique
One I've already done in my past, long before this blog was ever dreamed up, which means I must return! It's totally worth it and can be a quick stop along the journey. Yes, there are massive fish that you can see from 60 feet above but don't even dream of bringing your fishing pole!
#20 Hike Escarpment trail at Porcupine Mtns, Lake of the Clouds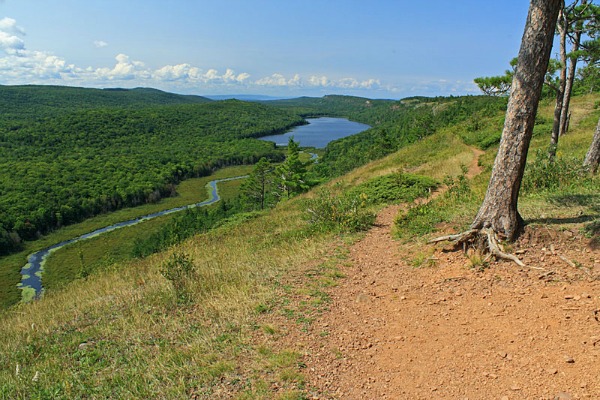 Escarpment Trail Lake of the Clouds via My Michigan Trips
Said to be one of the most scenic short hikes in all of Michigan. With a name like "Lake of the Clouds" it has to be stunning! The trail is about 4 miles, with loose rocks and roots – hoping these will come in handy.
Lake Superior is considered the largest freshwater lake in the world by surface area and is the world's third-largest freshwater lake by volume and the largest by volume in North America. One must understand the danger this great lake carries. I mean when there's a famous song about a ship wreck on this massive body of water you have to think how much importance the history is. Just visit the museum!

#22 Chapel Falls hike, Grand Marais
Another falls…but it's near Grand Marais, which apparently is an incredible stop along the Lake Superior shoreline and I was shocked to learn how close it is. There are many falls in this area, want to do them all?
#23 Jump off the Pier, Grand Marais
I've lived in several areas that have lighthouse piers and never once have I had the guts to jump. Many michiganders know the feeling of a summertime pier jump, guess we better get on the bandwagon!
#24 Sip and Sail Sunset Cruise from Mackinac Island
This just sounds fun and beautiful. Imagine a glass of wine (or sip of your choice), the incredible backdrop of Mackinac Island and her sister bridge with a sunset topping it all off. Take an Arnold Transit Co. boat from Mackinac Island for this sweet summer, or fall, ending to your day. *Update* Arnold Ferries were sold to Star Line Ferry Company during the fall/winter season 2016. It appears Star Line will continue sunset cruises and include fireworks cruises every Saturday from July through September.
#25 Point Iroquois Light Station
Although it's no longer an active lighthouse the history and views make it worthy of a stop. Explore the house, traverse the wooden staircase down the bluff then take in the shoreline of Lake Superior.
#26 Whitewater raft Piers Gorge
A rough section of the Menominee River located near Iron Mountain. For some reason I always thought I'd have to travel to some river in an eastern state to get to experience the thrill of whitewater rafting. Welp, it's right here folks!
#27 Climb the Pine Mt Ski Jump, Iron Mt.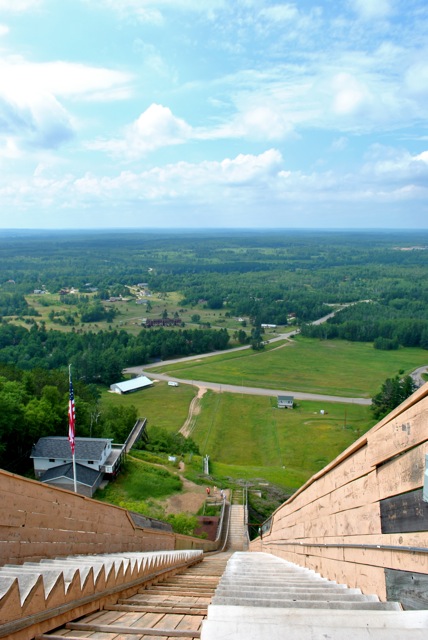 Those who fear heights will be challenged with this one! Known as one of the tallest man-made ski jumps in the world, it hosts one epic event spread over a weekend in February with tailgating and nearly 20,000 spectators. A fantastic thing to witness but if you're interested in the views, go for a climb yourself during warmer months and behold the beauty.
#28 Eat a 5 course meal at the Grand Hotel, Mackinac Island
With all this adventure I'm craving a bit of fancy.
#29 Estivant Pines Nature Sanctuary, Copper Harbor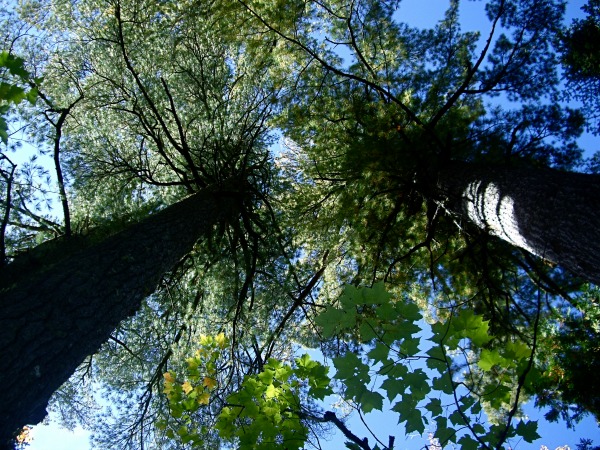 The enormity of the pines here have to be seen up close and personal. Many of the trees are 600 years old and this sanctuary is among the last of Michigan's old growth white pines.
#30 Sunset/Full Moon Kayak Tour, Hessel

If you can plan it just right a sunset view with the rising full moon would be a great experience. I can just picture the sparkling moonlit water and the sounds of nature. Ahhh…
#31 Lakenenland Sculpture Park, Marquette

A free park open 7 days a week with sculptures made out of scrap iron. Tom Lakenen, an iron worker with a calling to make art moved his pieces to this 37 acre property after his hometown made him remove them from his lawn. Possibly a good move all around…his neighbors are happy and so are the visitors that can enjoy the whimsy-ness.
#32 Visit Isle Royale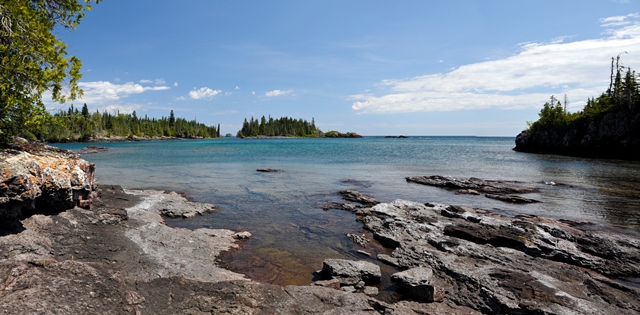 Isle Royale via NPS.gov
This national park is touted as "the edge of wilderness." The park is open from May – October because of the harsh weather during the rest of the year and you must obtain a special permit to explore the island. Certainly an adventure I'll use a guide for. This is one of the scarier Upper Peninsula destinations for me. Can't wait!
#33 Sail on Lake Superior
Sailing has always sparked some curiosity in me. Those big wooden vessels, out on the open sea with wind guiding your path – just sounds magical!
#34 Take a U.P. Wine Tour
Just to name a few…Leigh's Garden Winery of Escanaba,  End of the Road Winery in Germfask and Northern Sun Winery located in Bark River. Currently there are around 8 or 9 wineries in the Upper Peninsula and since I love wine so much I'll be making my way around, then sharing it with you.
#35 Taste U.P. Craft Beer
Michigan is known for it's craft beer so if you're not too hungover from your wine tour make your way around for the beer of Michigan's Upper Peninsula. Breweries stretch from east to west with several in-between. I'd love to visit all of them but if you'd like to get a taste of all of them in one spot try out the Annual U.P. Fall Beer Festival in Marquette.
#36 Stand Up Paddle Boarding, Escanaba
We've talked about getting paddle boards here at Twin Cedars Resort and I'm looking forward to that. But experiencing it along the Lake Michigan shoreline in Escanaba, on a bright sun shiny day, makes me think I'd never even realize the great workout to be had while having so much fun.
#37 Attend the U.P. State Fair, Escanaba
Escanaba again? Yep! Who knew the Upper Peninsula had it's very own state fair? See, I told you the U.P. was like it's own separate state. Plan your trip for August!
#38 Sand Dunes at U.S. 2 Beach on Lake Michigan, St. Ignace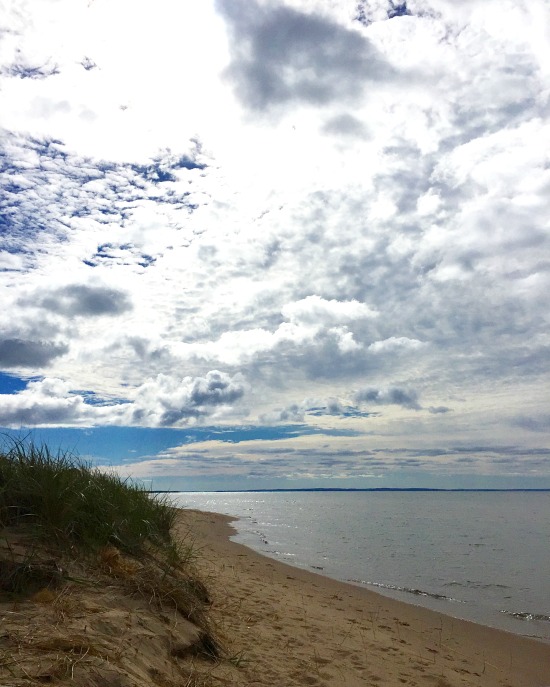 Miles of sandy shoreline and sparkling waters, Lake Michigan tends to be a bit warmer if you're into taking a dip, than Lake Superior is. Remember these are very large bodies of water with strong currents, be careful and enjoy the beach!
#39 Laughing Whitefish Falls
It's possible that I'll just take a full weekend and do a falls tour around the Upper Peninsula. Oh all the beautifulness…
#40 Karst Cave Tour, Trout Lake
Holy crap this really is in my backyard! When I asked Bob about this one he didn't seem fazed. I say something like, "did you know there are caves right here in Trout Lake?" And he says, "yeah at the Fiborn rock quarry." And I say, "how come I didn't know and how come you never took me there?" He says, "I looked for them once but couldn't find them." So I found a tour company because I'm thinking you shouldn't do this one alone.
#41 Drummond Island Cliff Overlook Hike

This island has been on my list for a long time. I can't be sure all that's there so I figure I'll plan this trip then report on any other cool things to see while visiting.
#42 Watch a meteor shower in the dark sky at Twin Cedars Resort
The wonder of a shooting star…Get a guide to all the happenings beyond our atmosphere here to know the best times to star gaze.
#43 Underground Mine Tour, Greenland
Several different types of tours to choose from. I'm thinking of going with the one that has us propelling down a mine shaft…there goes my heights fear again…and enclosed places if that's an issue for you. Hey go big or go home right? That's actually not necessary through Adventure Mine Tours, but they don't call it adventure for nothin!
#44 Hungarian Falls
Since you'll be on that side of the state anyway…behold the beauty!
#45 Glass Bottom Shipwreck Boat Tour, Munising
The history of shipwrecks on Lake Superior is part of the culture up here, see them where they continue to rest. And with the Pictured Rocks National lake shore in the background you'll always have something fantastic to look at. This one's like 2 in 1. Hmmm…sounds good!
#46 Agawa Canyon Tour Train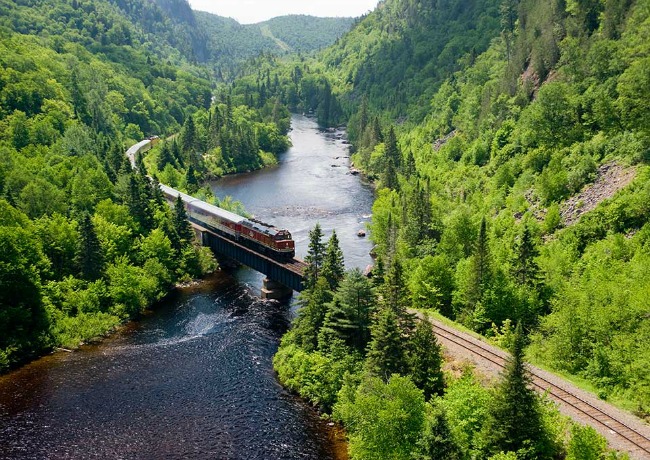 Canadian, yes, but you still have to go through the Upper Peninsula to get there and you'll get some unforgettable views. Taking a train seems so timeless, something I've always wanted to do. My husband says he's done this tour before, I'm thinking it's high time he take me on a little excursion.
#47 Thomas Rock Scenic Overlook, Big Bay Marquette
A short, easy nature trail with signs identifying the natural growth and wildlife. Education and adventure – right up my alley!
#48 Mt. Baldy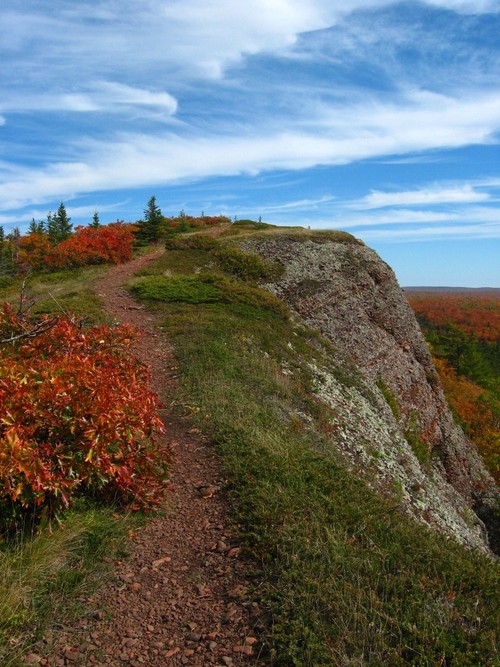 Also known as Mt. Lookout, an approximate 3 mile gradual incline hike that is so worth it!
#49 Take a plane to Mackinac Island
Little planes to a little island. Sounds scary to me but I have friends that do this all the time. Thinking the aerial view would be pretty fantastic too!
#50 Jump off the rocks and swim at Devil's Washtub, Copper Harbor
I'm not one who would generally jump into dark waters that I'm unfamiliar with, so of course I had to add this to the list since it's all about overcoming fears and just "doing the thing."
There's a lot of adventure to be had, thanks for coming along! Feeling generous? Share your own U.P. adventures using #miupbucketlist on Instagram, Facebook or Twitter so we can see!
---
Related posts:
Things to do in Michigan: Eastern U.P. Edition
Wolf Facts: what you should know in MI's U.P.
Top 5 Cabin Getaway Essentials: U.P. vacation
7 Rules to live by when visiting Mackinac Island: being a fudgie