I'm all about easy, when it comes to garden ideas and outdoor plant care. Feel free to pin this easy watering and fertilizing schedule. Stay awhile…you're gonna love these beauties!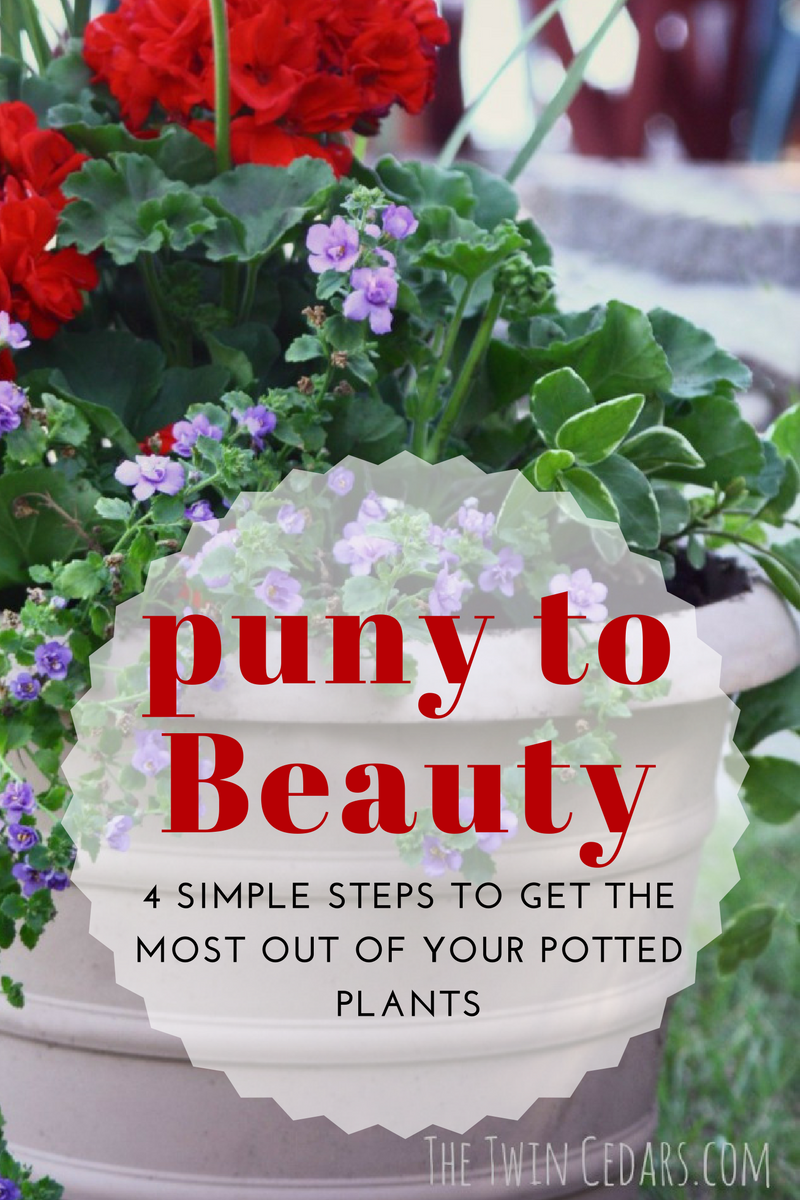 This post contains affiliate links. This means that if you click through and make a purchase, The Twin Cedars may receive a small commission at no additional cost to you…we appreciate your support. Full disclosure here.
Here comes fall. How did that even happen? So time really does fly when you're having fun…or are so busy that it feels like just yesterday that we started this crazy adventure and yet the season is already winding down. That doesn't change me wanting to share how well my plants did this year from spring and into fall.
I really just wanted to do a post about my plants and show off how great they've been all year. I hate to say this but I've seen quite a few changing leaves…eek! Already??!!
But I have to admit – and this is the first time I've ever said it…I'm actually glad it's time for colder weather…what you say? You crazy? You used to be the girl still going to the beach till the very last possible warmth was left.
You've never been a fan of the cold…Meghan what are you thinking?
Ummm…hello? Can you give me a woohoo for remodeling? Woooohoooo!
There was a time when I was frightened of any kind of renovation. The thought of having things torn apart for any length of time made me anxious, but as my husband has proven time and time and time again, he can be very efficient when motivated on a project.
This time will be a little different as we have a limited time frame to work with. While summer is rockin' and rollin' with costumers and The Resort business, winter is when the indoor magic will happen. Can't wait to share all of it with you.
For now just look at these beauties…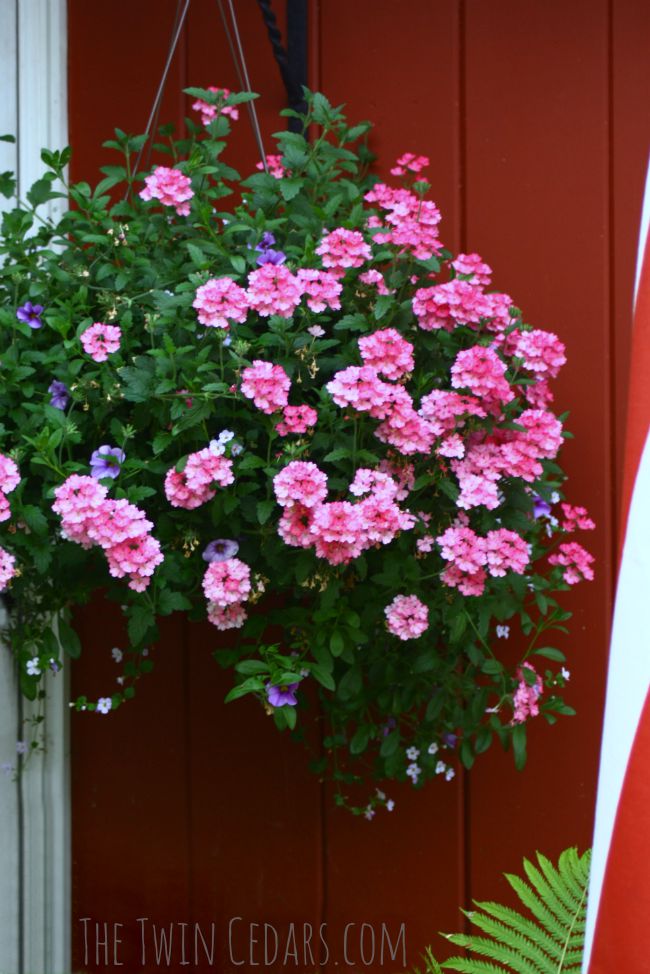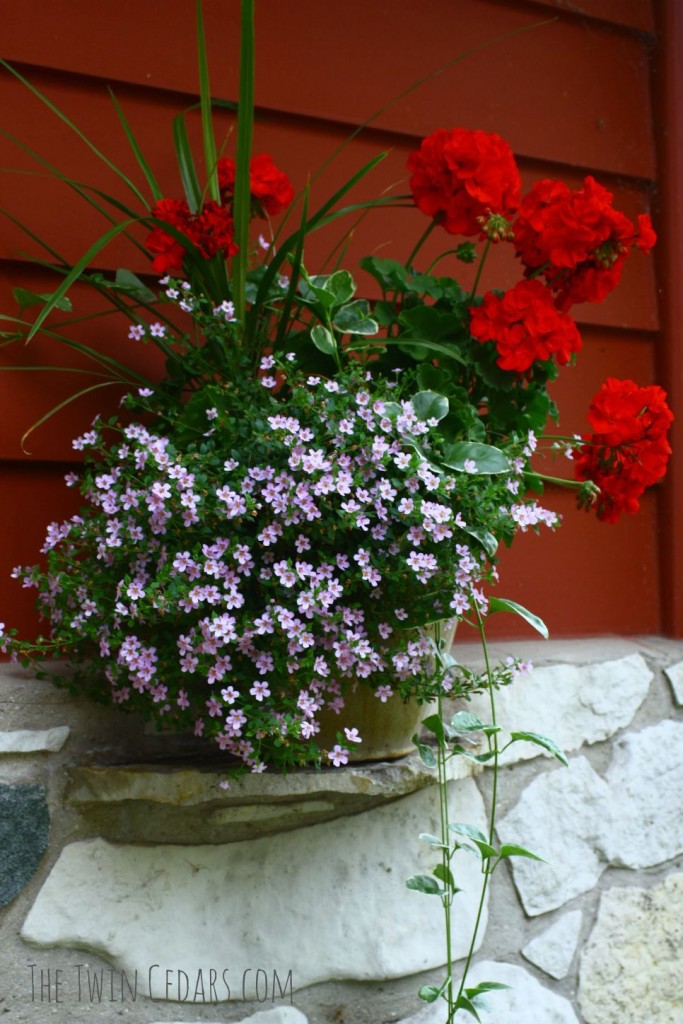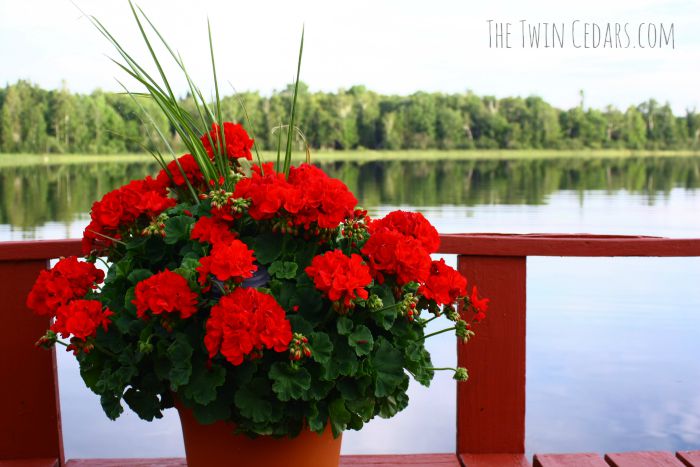 Want garden ideas for awesome color and a pretty plant combo? Don't miss this post!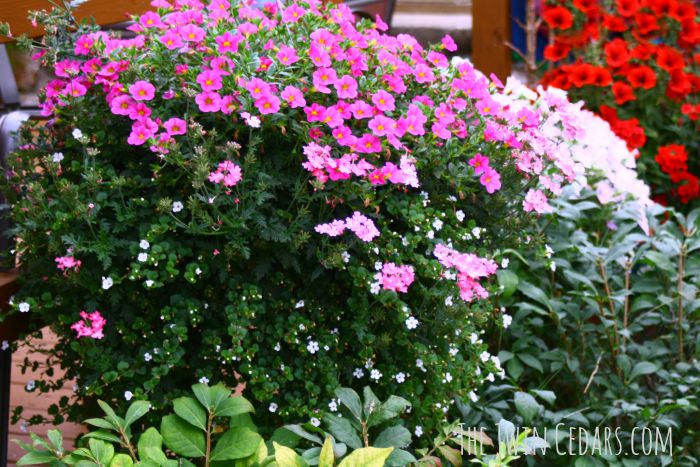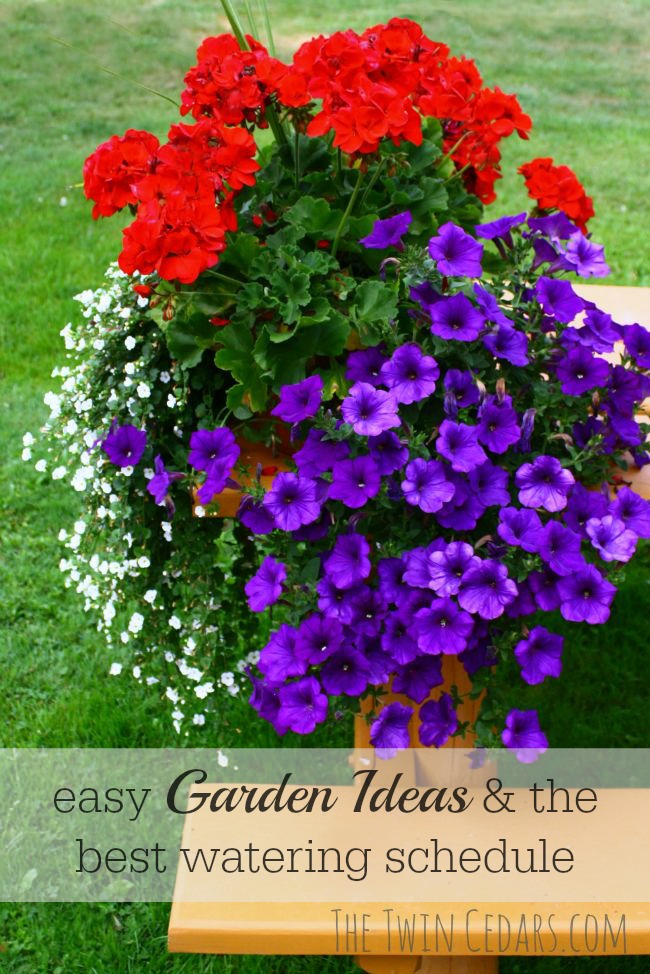 So I've said this before and I'll say it again…really because I don't want to forget for next year and not because I don't think you guys are not paying attention.
A healthy watering and fertilizing schedule is all you need to get beautiful plants like this!
Garden Ideas: Springtime through Fall
Here is a spring shot.
And summer.
Not kidding…pretty awesome right?
And for another…spring…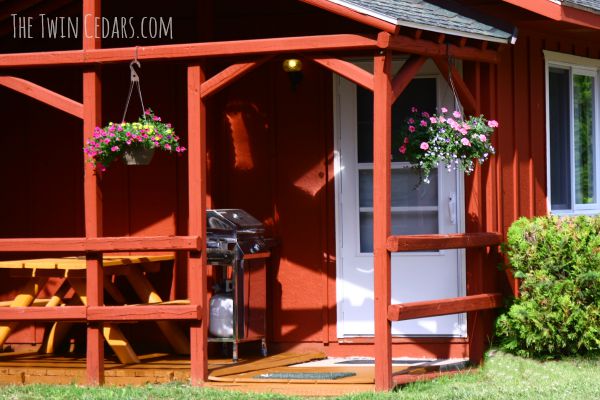 Summer…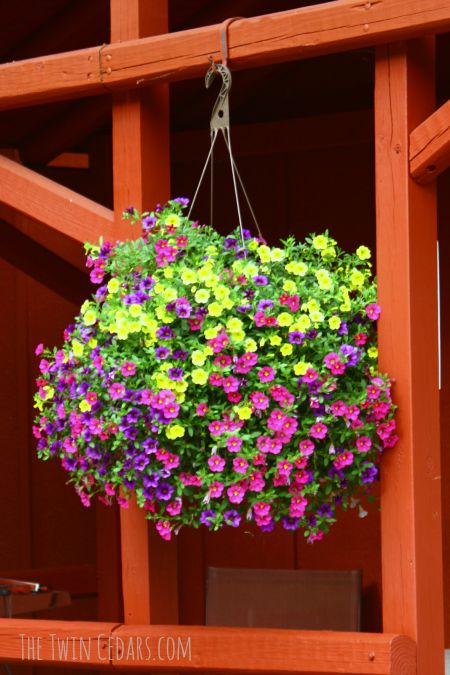 These were not expensive hanging pots. In fact I purchased this one at the huge plant sale from our local market that happens every spring in tiny towns across Northern Michigan. I spent $12 on the plant you see above. I bought a similar one at the local greenhouse for $45. While the more expensive hanger was big and beautiful from the start, it did not take long for my little friend to catch up.
I'm in love with the ivy geraniums from this year. Will definitely be getting them again, also bought at the plant sale…these were $7…unbelievable I know!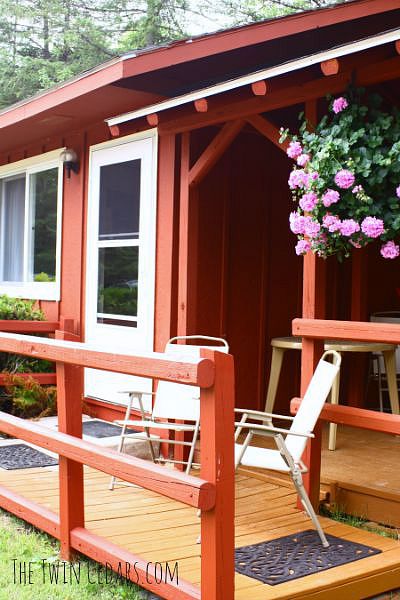 More great garden ideas…if you happen to come across a moving sale and spot some hardy hostas planted next their garage, ask if you can dig some up. Yeah…I did that.
This was right at the height of mosquito season, but I was not going to let that get in my way. And a lot of benadryl cream later (for me, not the hostas!) you have some awesome plants that will return year after year, with the possibility of moving them where ever you want..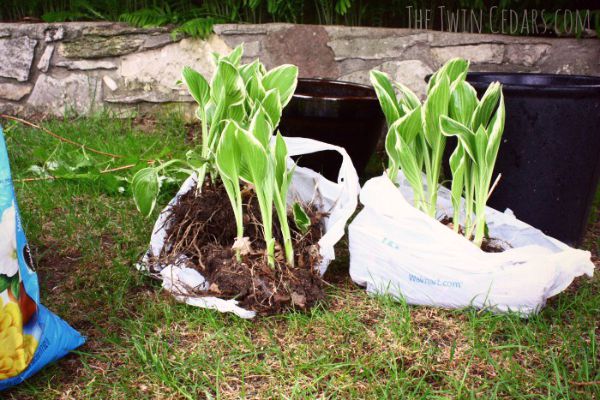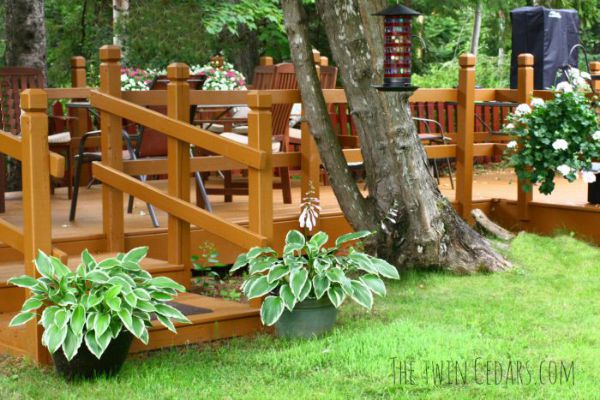 So I'm sure you all are sick of this, but seriously! Go PIN this so you can have the best flowers you've ever had!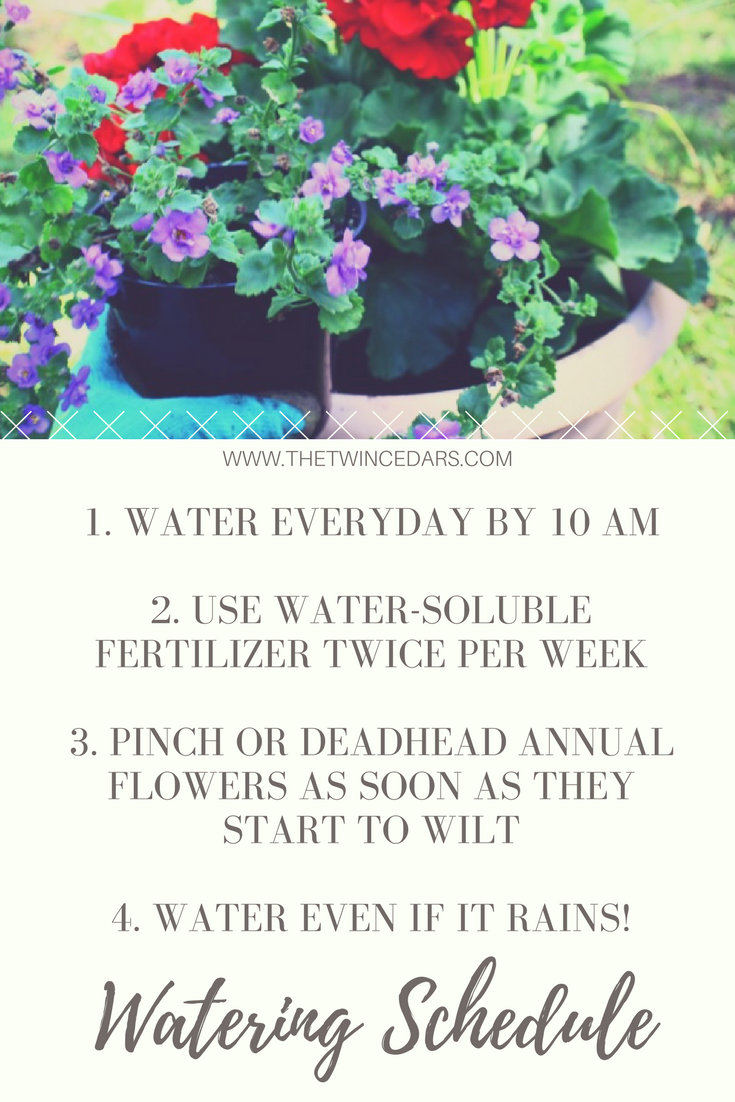 Make certain to follow along on Pinterest to see all the latest and check out your social media platform of choice at the top to never miss a post.
Got any of your own tips you'd like to share? I'd love to know what they are so please comment. Oh my gosh my wheels are already spinning for next year…
---
Related posts:
5 Best Tips to a Beautiful Flower Garden
Save