Oh glorious warmer weather how we love you so! Our long winter hibernation has had me thinking…dreaming of springtime. Get out there, soak up some sunshine (with sunscreen on of course) and do some springtime outdoor activities.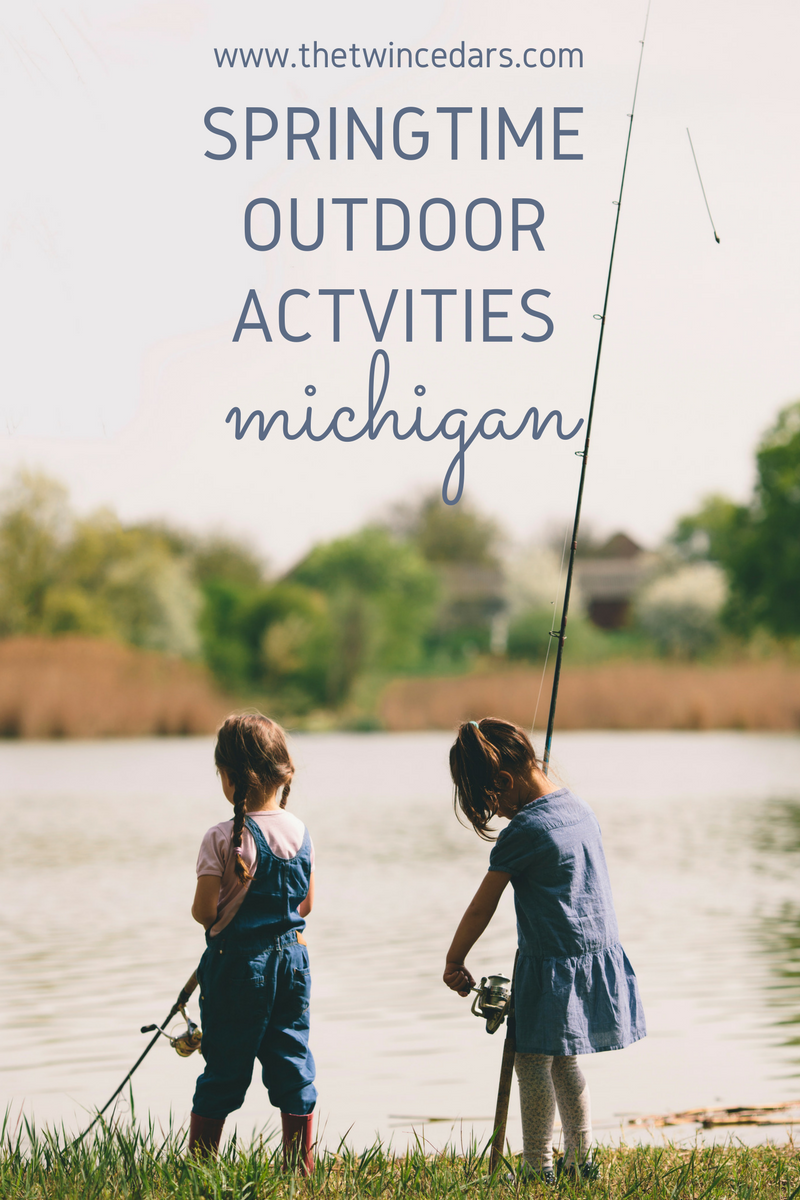 This post contains affiliate links. That means when you click through and make a purchase, The Twin Cedars blog may receive a small commission at no additional cost to you. This allows us to continue to bring fun and informative content to this webpage, for free…we appreciate your support more than you could ever know! Full disclosure here.
Springtime Outdoor Activities
Fishing
This is why we're here right? Our little fishing resort finally wakes up from her long winter's nap and is teaming with excited anglers ready for a catch, good eatin' and tall-tales. Don't forget about free fishing weekend in Michigan for June! See the calendar of events for the Saint Ignace Chamber of Commerce for exact dates each year.
Smelt Dipping
Or "dippin" if you want to say it the yooper way. A late night adventure for springtime fun. It's pretty much what it sounds like…unless you don't know what smelt are in which case then you should head over here for more information and the best way to gauge a trip.
Bird watching
Whether from your own backyard, trekking some back-country roads or visiting an observatory, spring is sure to bring our feather friends back north. Whitefish Point Bird Observatory Spring Fling in April is a great event for everyone on the bird watching grid from beginner to expert. There is a fee for this event with several guest speakers, workshops and guided bird walks.
Go for a hike
The best of outdoor activities is surely a way to get some fresh air, work your muscles and explore nature. There are tons of trails to navigate with the Hiawatha Shore-to-Shore Chapter in the upper peninsula (right in our backyard!) which is part of the North Country Trail. Learn more about the Hike 100 Challenge to add a little competitive edge or just do it for you.

Mushrooming
For morels more specifically. These "Goldilocks" shrooms like it just right so be sure to check out this post for tips on how to find them, which is a perfect way to get out and enjoy the great outdoors.
Mackinaw Memorial Bridge Run
A great way to start a season of activity. Learn more about the very specific details like minimal mile-time requirements, how to register and where to begin. For all the fun Mackinac Bridge events go here!
Lilac Festival at Mackinac Island
Ahhh the fresh scent of lilac and…wait is that horse poo? Yes but that's all part of the experience. Visit the island for the first time or make it one of many, either way it'll be beautiful. Learn more here and make sure you've read the 7 Rules to live by when visiting Mackinac Island.
Jeep® the Mac
I haven't always been a big fan of spring around here. Whaaaa you say? Mud just simply isn't my thing, however if you're into the Jeep® thing then this will be right up your alley. A huge event in April for the Eastern end of the U.P. from crossing the Mighty Mac to Geocaching scavenger hunts to riding the surrounding areas. Go to the event page here to learn more.
---
Related posts:
Bird Watching is a thing! 4 ways to get started
Wolf Facts: what you should know in MI's U.P.
Things to do in MI: Eastern U.P. Edition
MI's Upper Peninsula Bucket List, 50 things to do
Save
Save