My brother came to me recently with a big idea. He has it all mapped out in his head with a 5 year plan to take a 6 month backpacking trip from Mexico to Canada. You see, my little brother, who's 18 now and towers over me, has never been much for the outdoors let alone one to want to go hiking from one country to the next. Of course that was my first thought…but why completely shoot his dream down when he's so inspired? This got me pondering the amazing hiking trails we have around here.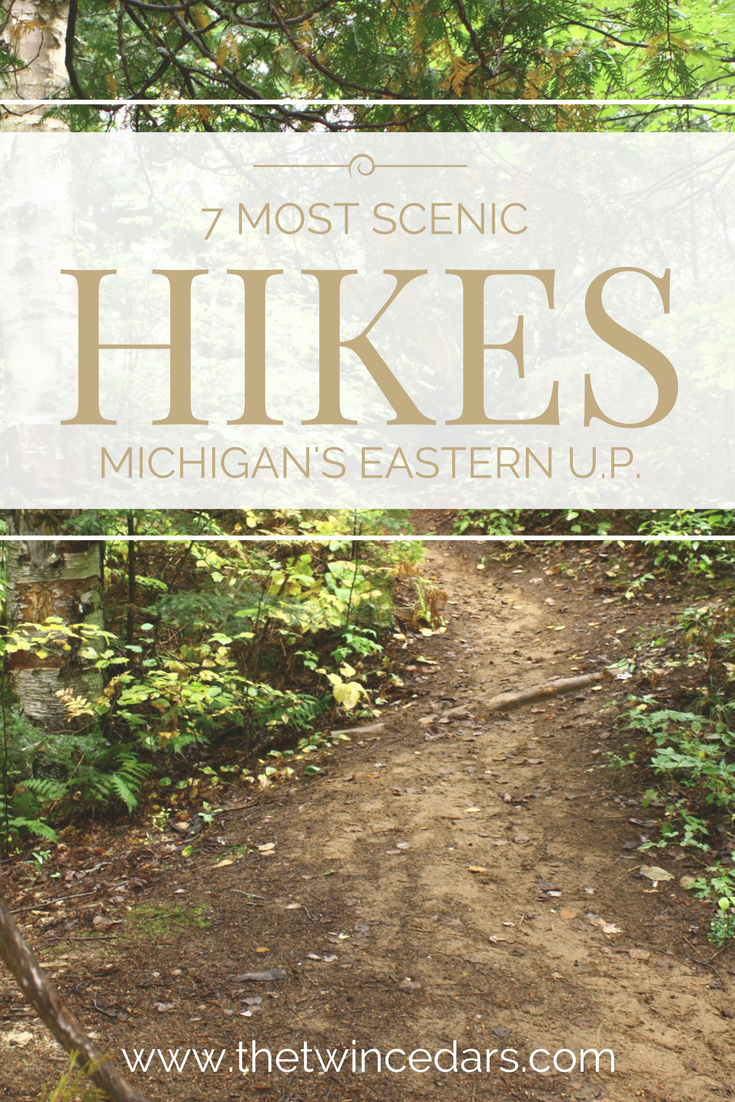 Then our conversation naturally turned to some basic concerns and appropriate questions. Who will you go with? Are they experienced? How familiar are you with Mexico? Do you know what to take with you? What will you eat? Did you think about the drastically different climates you'll be trekking through?
This post contains affiliate links for your convenience. That means when you click through and make a purchase, The Twin Cedars blog may receive a small commission at no additional cost to you. This allows us to continue to bring fun and informative content to this webpage, for free…we appreciate your support more than you could ever know! Full disclosure here.
So I finally say to him, "why don't you start small?" The U.P. has some of the best hiking trails in the world. They're right here in our own backyard. For starters, the North Country Trail's Hiawatha Shore to Shore chapter starts at the Mackinac Bridge running west and north to Lake Superior with several other area trails heading northeast.

Several of these trails are perfect for every season…except for maybe the muddy side of spring. Take your snowshoes and ski or trekking poles along for winter scenery or a decent pair of hiking boots or shoes for the rest.
And as I write this I keep thinking about the wolves I dreamt about last night. The kind of dream that wakes you still coursing with adrenaline, every hair on your body standing on end. Yeah, not sweet majestic wolves playing happily in the meadow. Who knows where it came from but I think I'll be rereading
my own post about them.
7 Most Scenic Hiking Trails in the Eastern U.P.
Straits State Park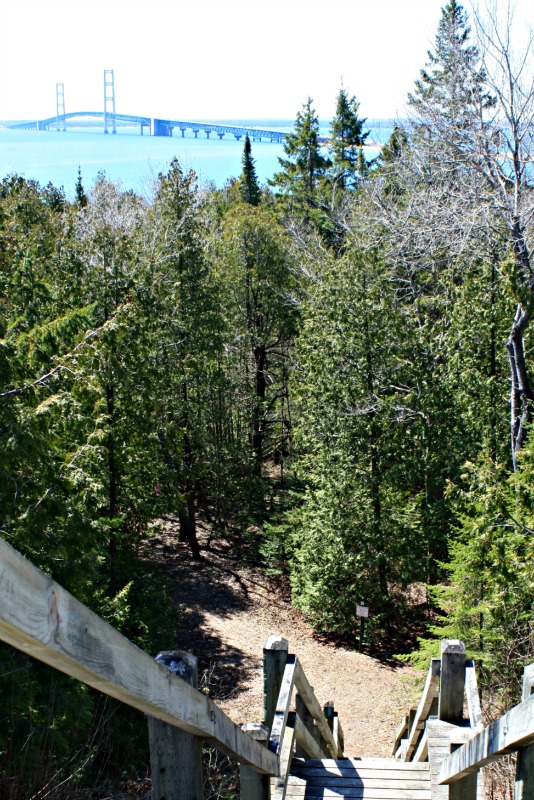 More like a foot path here but I simply could not write a scenic post and not include the Mackinac Bridge. You'll need a Recreation Passport to enter the park in a vehicle but it'll be so worth it for the stunning views!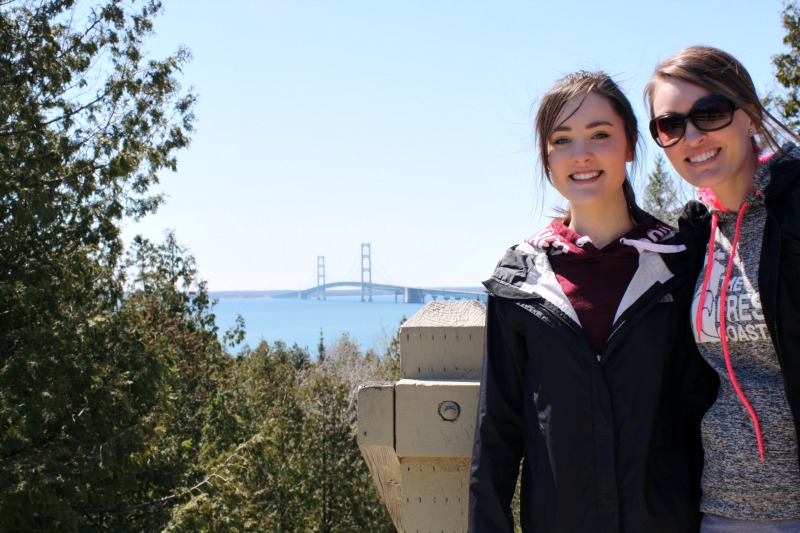 So this is just between you and me because she told me not to tell, but Kylee actually had a good time last weekend during our beautiful weather…exploring the hiking trails with her mother! What??!! I know, it's shocking. I can't wait to get out there again but it may be a bit with opening season narrowing in on us.
North Country Trail: Niagara Escarpment
The closest hike to Twin Cedars Resort has some really cool features. Access it from H-40 off US 123 near Trout Lake and spot a car on East Lake Rd or travel the Niagara Escarpment and backtrack.
Trout Brook Pond between Trout Lake and Rudyard on H-40
Keep going on the North Country hiking trail and you'll get to Trout Brook Pond. View Map 2 as a guide.
Whitefish Bay Byway, Naomikong Overlook
Take this trail along the beautiful Lake Superior shoreline, you will not be disappointed. Go north on US 123 directly from Twin Cedars Resort. This one has incredible water views and easy parking near the trail route.
Tahqua Trail along the Tahquamenon River before the falls
Tahquamenon Falls should definitely be on your list of must do hikes in the Eastern U.P. A natural beauty with several hiking trails within this 50,000 acre state park. This hike made my bucket list of 50 things to do in the Upper Peninsula.
Tahquamenon Falls hike between the upper and lower falls
There's several hikes within the Falls State Park ranging from approximately 3 to 8 miles and it's fair to say they're all beautiful. Here's a map provided by the Michigan DNR.
Drummond Island Hike
Go to the eastern most point of the Upper Peninsula and experience some of the most amazing views. You'll have to take a ferry to get there so plan for a long day or overnight trip. You can also do the Drummond Island overlook hike with Woods & Water for a guided experience.
As we start another beautiful summer season I'm hoping to share some of these incredible places. Follow along on Facebook and Instagram and if you plan to visit us this summer use #twincedarsresort to share your stories and photos, we'd love to see what you experienced on your trip!
---
Related posts:
Outdoor Activities for Springtime in Upper Michigan
Mackinac Bridge Events: all the fun ways to cross
Morel Mushroom Hunting: 10 tips you may not know
7 Rules to live by when visiting Mackinac Island: being a fudgie
Save
Save
Save
Save
Save
Save