Viewing the northern lights should be on your bucket list. If you're a morning person like me then you might've struggled with even staying up late enough to view them on a good night. I'm not sure what it is, I just like being around and about when the sun is shining. Of course it wasn't always like that but I guess growing older does those things to you.
So making it a priority of viewing the northern lights can be an all night affair.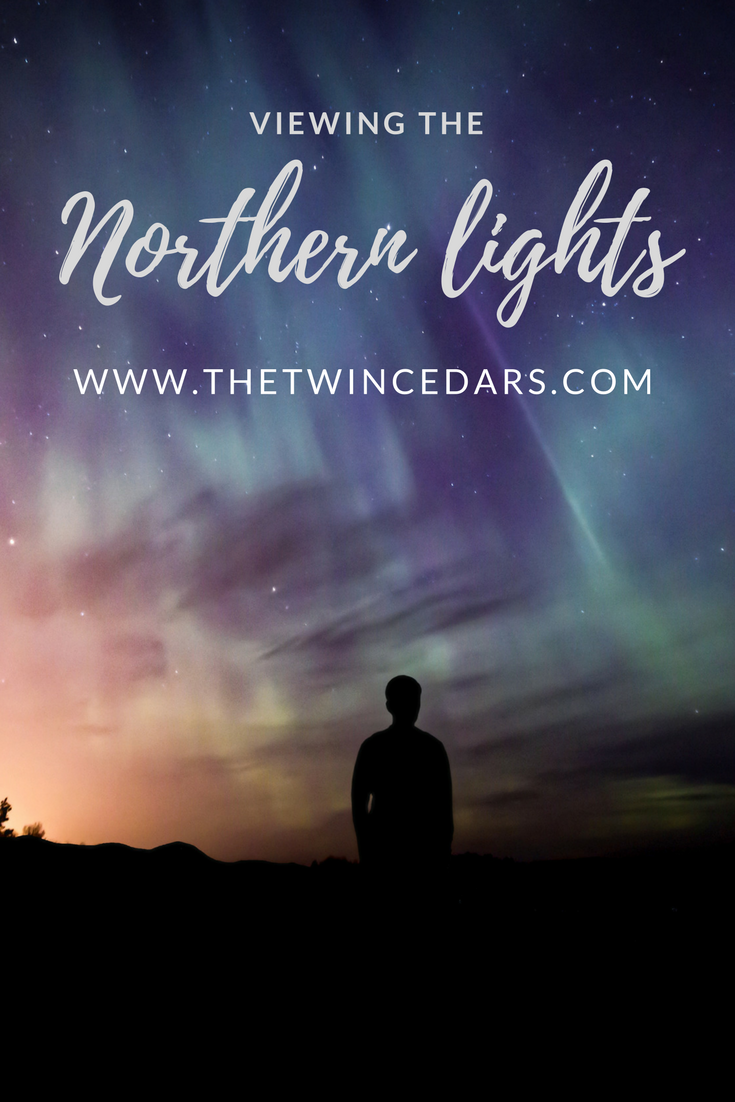 Originally I wanted this post to be about all the helpful apps you can use to make your experience with Northern Lights epic, but I'm learning that it's not quite that easy.
It is said that the northern lights are on an 11 year cycle with the sun and according to predictors we're currently on a downward swing until about 2025. So the good news is, on the date of the post, we already have 3 years behind us…but 8 more to go. For Twin Cedars Resort frequenters it means you'll have to book out your reservations for a very long time, hahaha!
We're so lucky that the resort is in an area with very little light pollution because standing on the end of our dock on a moonless night could be just the spot to see a spectacular light show.
But back to those "helpful apps"…A clear night sky is actually the only sure thing you can depend on but still doesn't mean you'll see them. Recently we were super excited about some chatter that the northern lights were going to be making an appearance, and since this is a bucket list item of mine, we climbed aboard the pontoon boat to do some viewing from the middle of the lake.
We did actually see the northern lights that night HOWEVER it wasn't what I pictured in my mind. The vibrant, dancing colors you see in photos aren't usually how our human eyes see the northern lights. Much of the time it's a slow shutter speed camera with specific settings that can capture them that way. What we saw, and how they are seen much of the time likely without even realizing it, is a dim grey light slightly brighter that the black of the sky.
No wonder I've lived in the north for so long and haven't seen them. What a rip off!
Disappointed yet?
Don't be.
Because even though I didn't see green lights swaying over head, what I did see was still special. I remember when I was a child and we would adventure "up north" to our little place in the woods. Immediately after climbing out of the car the first thing I would do is look up at the sky. Always in awe back then of the vastness of space and the twinkling stars that go on forever.
They say when you look into outer space you're actually looking back in time. Viewing the sky that night brought me back to the wonder that I experienced in my childhood. Something that I've often taken for granted as an adult living here.
I must've seen 5 or 6 shooting stars, too. Each one with a wish attached.
Here's my advice when hunting for northern lights:
Use a northern lights predictor such as the Aurora Service for the USA and Canada. A kp number of 5 or greater will get you the best chances for seeing them.
Always make sure it's a clear night with absolutely no cloud cover.
Try to be in an area with as little light pollution as possible.
Don't be disappointed if you don't see them. Take in the moment and go back in time.
Being in the middle of the lake that night made the Milky Way look touchable, with every passing moment the sky getting closer. If you ever have an opportunity to see your sky this way, do it. But of course safety comes first, so use your brain and some common sense! Know the area and the lake, use lights on your boat, life jackets, calm water, etc, etc…
Have you ever stayed with us and have a story to share? We'd love to hear about your adventures, follow us on Facebook or use #TwinCedarsResort on Instagram so we can see your photos!
---
Related posts:
Michigan's U.P. Bucket List, 50 things to do
7 Most Scenic Hiking Trails in the Eastern U.P.
7 Rules to Live by when Visiting Mackinac Island: being a fudgie
Wolf Facts: What you should know in Michigan's U.P.
Save