I knew which lamp I would redo and that I wanted it to be rustic but didn't really figure it all out until…
This post contains affiliate links. This means that if you click through and make a purchase, The Twin Cedars may receive a small commission at no additional cost to you…we appreciate your support. Full disclosure here.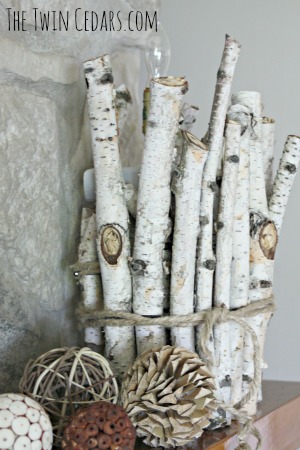 Anybody else have a fitbit? I swear ever since a friend of mine – you know who you are – has invited me to the "challenges," I feel like I've been getting some serious steps in – even though she kills my weekly step stats, Every. Single. Time! The good thing? I have more energy and feel good. The bad? I think up all kinds of crazy ideas that make me look even crazier to some of my neighbors.
Let me explain…
While out on a fabulous walk with Mr. D and the W the other day, exploring trails that I didn't know existed, I came upon a pile of birch branches…like amazing white, rustic beautiful branches. I knew I would soon return to obtain the loot.
I'm not sure why I thought taking both dogs along on this part of my forest foraging was a good idea, but I was in it to win it and I wasn't leavin' till I had enough. Which I've become to realize that, what I thought may have been too much, was just enough.
Tip #1 – get more than you think you need.
I've never seen so much traffic down that little dirt road. Here I am with both arms rapped around a huge bundle of branches, two dogs in tow that do not follow any sort of pace (with me or each other) and a fresh hatch of mosquitoes matching my every move – so…to the nice people in the van that waved, sorry. I really wanted to return the gesture but you understand, right?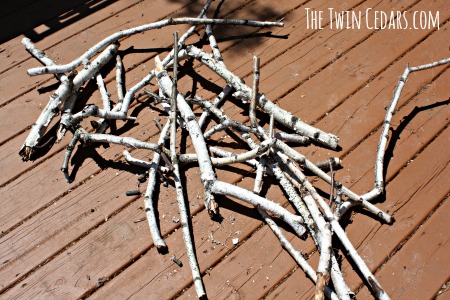 No Cost Lamp Revamp
Start with a sturdy lamp. Square or round with fairly straight lines is best. We recently found this one in the bait house amongst many other interesting things – which I will share…eventually.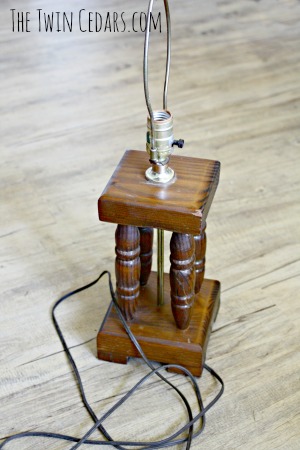 When you practically have a thrift store in your backyard there's no need to make a special trip, ya know?
Tip #2 – prep your branches. Use one of these to cut them to size and remove small twigs. Next use a dry cloth to wipe away any loose pieces of bark.
Did I mention this was a slightly messy project? I suggest picking a nice day and take it outdoors.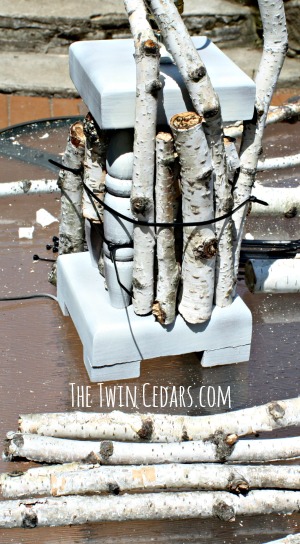 I spray painted the lamp with a bit of white that I had on hand to blend with the birch. Use your judgement depending on the branches you're using.
Tip #3 – zip ties…I would've preferred some sort of adhesive…any adhesive…but when you're doing a no cost lamp revamp you use what you have, so zip ties it is and they are pretty much awesome!
Here's where it becomes a bit of a puzzle. If you enjoy a small challenge then do this project yourself…I did. But having another couple of arms on hand would be beneficial. Go-go gadget extra arm! – anyone remember Inspector Gadget? I loved that cartoon!
I had a little rope/twine already from this lamp project. It's easily manipulated to cover those ties…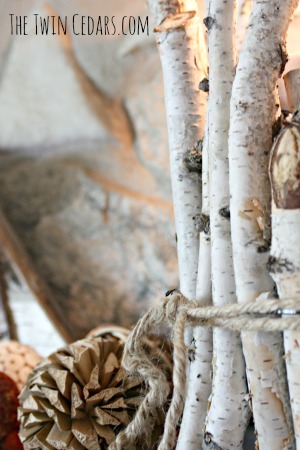 Isn't that mirror fantastic? Thanks Mom! It's great in this spot.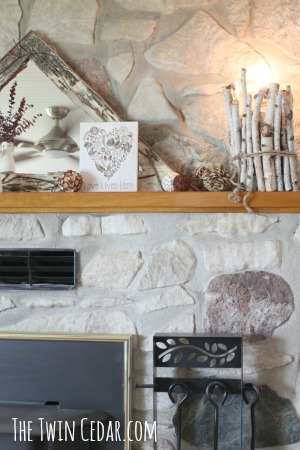 As soon as I started this project I knew I wanted to leave the lampshade off. I love the different heights of the branches and really wanted to keep that part visible. It's actually pretty much perfect for a mantel…if I may say so.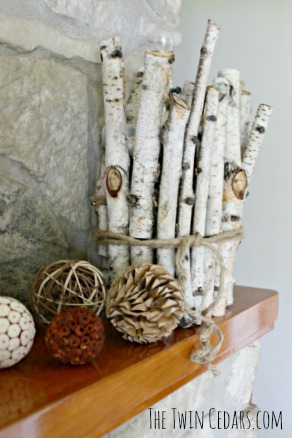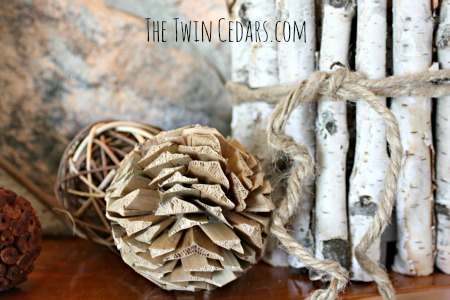 We inherited a lot of light bulbs when we bought the resort. I'm diggin' this one because #1 – it's clear, so when the light is off it simply looks like a decorative piece and #2 – I love how it glows when lit. Warm , inviting, almost candle light…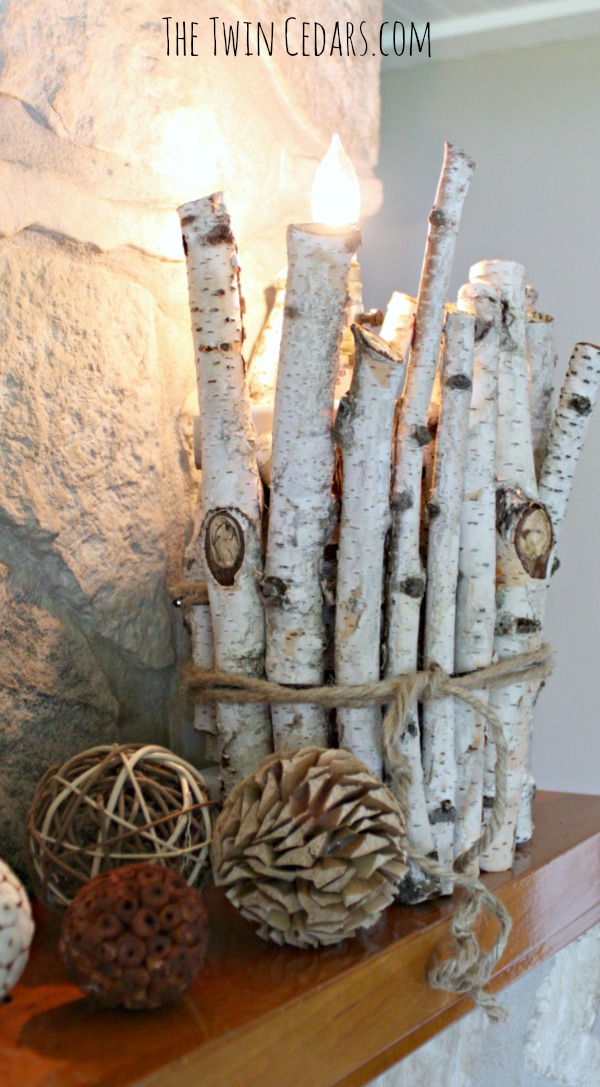 I actually didn't realize how Christmas-y this looked until I started preparing the photos…think I'll add a few spring flowers and share on Instagram soon…follow along!
Lamp-alooza! – Create & Share Challenge
Thank you so much to Stephanie @ Casa Watkins Living for another fantastic Create & Share Challenge! Be sure to click around and check them all out!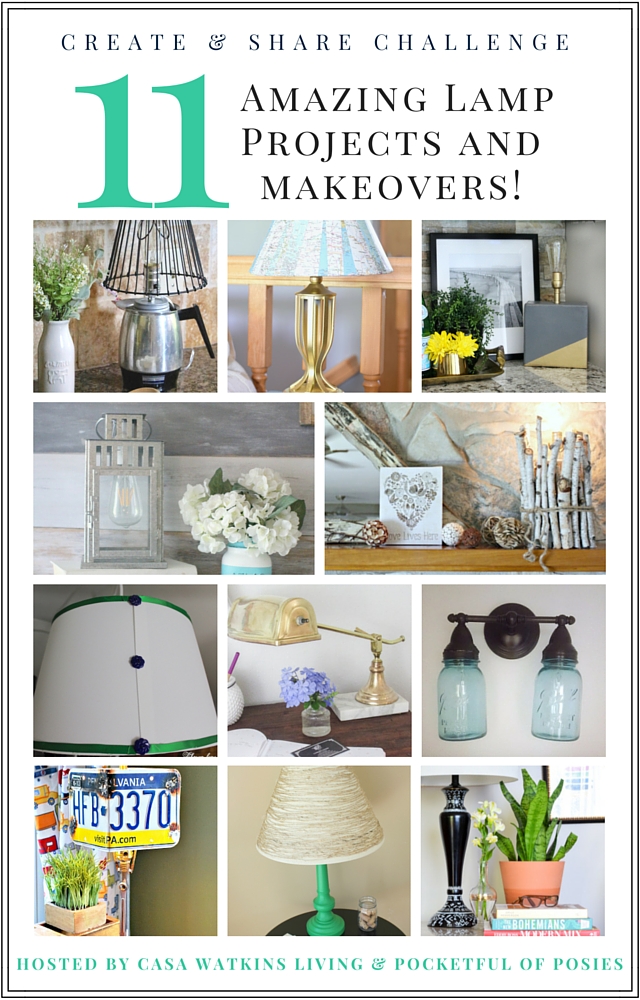 Casa Watkins Living: DIY Mud Cloth Lamp
Pocketful of Posies: Vintage Desk Lamp Revamp
Lehman Lane: DIY Hanging Light
One Mile Home Style: DIY Golden Atlas Lamp
The Twin Cedars: No Cost Lamp Revamp
Lovey Etc: DIY Lantern Lamp
This Is Our Bliss: DIY Color Block Lamp
Green With Decor: Old Lamp Update with Twine
DIY Beautify: Light Fixture Makeover with Mason Jars
Creatively Homespun: DIY Car Parts Lamp
My Life From Home: DIY Coffee Pot Lamp
Check-out my Create & Share projects from the past: