First of all I will not trick you into thinking I'm the greatest mushroomer. I'm the worst hunter of fungus known to man. I couldn't spot one if it was 6 feet tall and tapping me on the shoulder. So once again I'm writing and researching a topic that will start me on a path to learning more about what the best morel mushroom hunting tips are. Keep going for the link to a free field guide!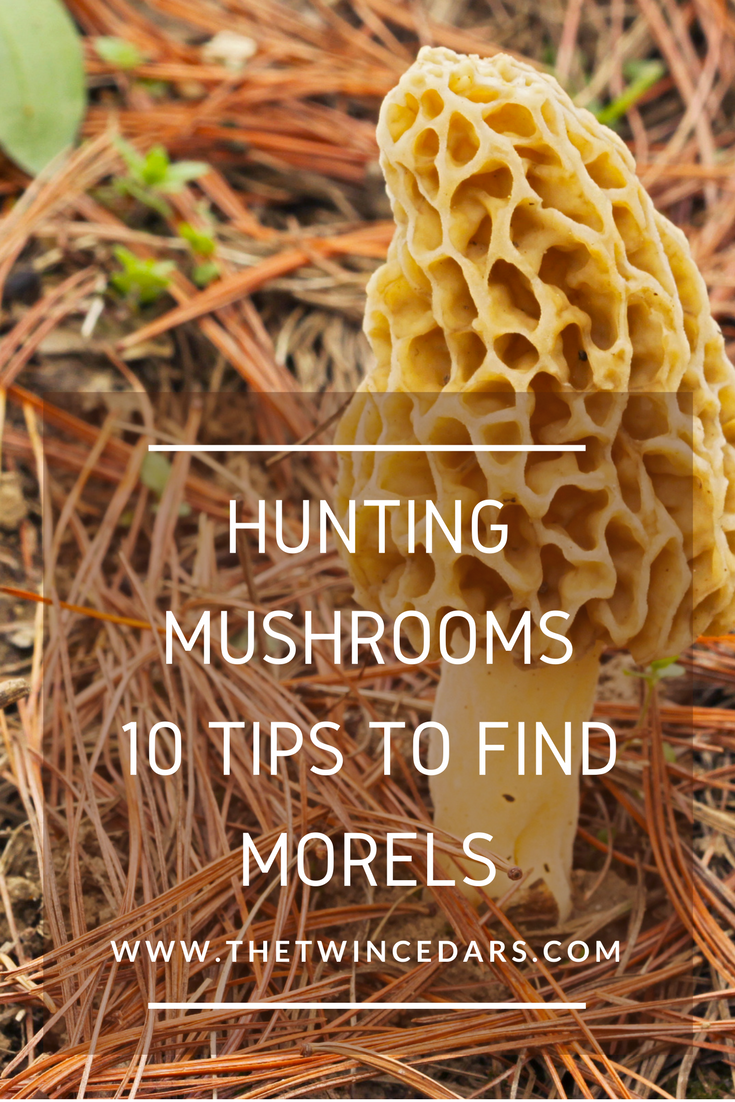 Before we get started, you must understand that anyone who is a fungus frequenter will tell you when in doubt, don't eat it! Always be 100% certain of the identification of anything you'll consider adding to a meal…of course one could say the majority of things in the grocery store are questionable, but that's another story for another day…
Our second September as little resort owners brought us a unique group of guests and once again had me fascinated. This time mushroom hunters and while you won't find morel mushrooms that time of year, (who knew there were so many other edibles lingering in our woods?) it ignited my curiosity. Because for most, if you aren't an avid connoisseur of the 'shrooms you'll want to start somewhere and morel mushrooms tend to be the most well known foraged of our fungus friends.
This post contains affiliate links. That means when you click through and make a purchase, The Twin Cedars blog may receive a small commission at no additional cost to you. This allows us to continue to bring fun and informative content to this webpage, for free…we appreciate your support more than you could ever know! Full disclosure here.
Morel Mushroom Hunting Tips
The collection of tips you'll find here is a combination of information found around the web, advise from informal interviews with friends and knowledge gathered from several mushroom books.
1) Practice makes perfect!
An experienced and much respected hunter (my friend Lisa) of all edible mushroom types, once told me that you have to acclimate your eyes to spotting mushrooms.  They aren't easy to see so a great tip is to take along someone who is at least a little experienced and let them show you. Practice! It turns out mushrooms don't actually want to be picked so they camouflage themselves really well.
It's also important to get good at the mushroom walk. Don't just walk around in circles focusing directly in front of you. Crouch down in a squat position and gaze ahead about 10 – 20 feet. You'll get a nice workout on the glutes as you look for them under leaves, around trees and by fallen logs. If you spot one, keep looking because there's probably more.
2) Spring for morels!
This tip isn't likely that mind boggling but knowing that the morel mushroom is much like Goldilocks, they like it just right, is an extremely important detail. Be ready when temperatures start to linger around 60º F during daylight hours and don't reach below 40º F at night. Morels can be found in almost every state so depending on your location this could mean anytime between February through June.
3) Know what you're looking for!
Black morel mushrooms come first in the season. You'll have the best luck finding them in patches of poplar trees but be diligent because the blacks are the hardest to spot. "Whites" or yellow morels are usually by dead elm trees. And, of course, depending on who you're talking to these tips may change. For instance, some find them easily by white pines among the fallen needles.
Once upon a time, areas around ash trees were breeding grounds for morels but with the infestation of the emerald ash borer, our ash trees are few and far between, if at all.


4) Best tip ever!
Previous year's burn areas. Whether a scheduled controlled burn or a wild forest fire, morels will thrive the following spring. Some very experienced mushroom hunters monitor and record fires for easy mapping of the next hunt.
5) Don't be greedy!
It's good courtesy to leave a few behind to give them a chance for next year. And never hog the spores! Use a mesh bag like an onion sack when foraging for morel mushrooms. It's quite possible you'll see other hunters out there, so don't be that person or you may get a scolding.
6) Always leave the root!
Either pinch off the stem just before the ground or use a specifically designed knife just for mushroom picking. This is important to remember for any mushroom you take from the forest floor.
7) Be careful and know the difference!
Always remember that morels will be hollow throughout the entire mushroom. You should always halve them longways before you clean, cook and eat them. If you find that your mushroom has a cap, throw it out! While some people say they eat these "false" morels, I would in no way recommend this. Remember, even though I'm a nurse I would not necessarily be interested in drumming up extra business for our healthcare system.
8) Dress for the occasion!
Honestly, this should be simple…you'll be in the woods where scrapes could happen and encounters with poisonous plants and nasty bugs are often. Wear long pants, layers on top and closed hiking shoes or boots are best.
9) Get yourself a field guide!
You're bound to come across more than just morels when trekking any back-country and truth be told, you likely won't have web access. Get something that fits in your pocket and has easy visual examples. This field guide was recommended to me and is relevant for more than just the western states.
Click for your free copy of "Field Guide to Common Macrofungi in Eastern Forests and Their Ecosystem Functions" provided by the Northern Research Station for the USDA. This publication is now only available for pdf download.
10) Most importantly, weather is everything!
You could follow all these hunting rules but morel mushrooms are known for popping up in some unexpected places, too. Even during a bad year you'll still likely find them in the suspected areas but if it's a good year? They could be right in your backyard or along a sidewalk you've marched down for years without a morel in sight and suddenly bam! everywhere! A spring rain is always promising.
I'm looking forward to some morel hunting this spring and will be sharing photos and stories on our Instagram feed and Facebook – be sure to head over! While you're there we'd love to see your bountiful and beautiful photos, tag us on Instagram @thetwincedars or post at our Facebook page. Happy hunting!
---
Related posts:
Wolf Facts: what you should know in Michigan's U.P.
Things to do in MI: Eastern U.P. Edition
Michigan's Upper Peninsula bucket list: 50 things to do
Bird Watching is a thing! 4 ways to get started
Save
Save
Save
Save
Save
Save
Save