Harold H. Klave
4/15/45 – 10/16/16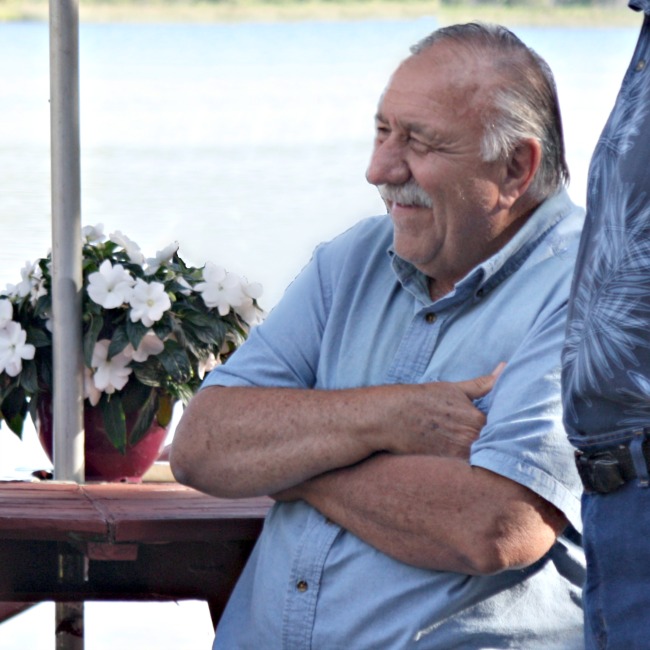 He Only Takes The Best
God saw you getting tired,
And the cure was not to be;
So, He put His arms around you,
And whispered, "Come with me"
With tearful eyes we watched you suffer,
And saw you fade away;
Although we couldn't bear to lose you
We could not ask you to stay.
A golden heart stopped beating,
And hard working hands to rest.
God broke our hearts to prove to us,
He only takes the best!
---
How does one find words…
How do we express the devastation, pain and sorrow?
The world has a lost a great man, husband, father, brother, grandfather, uncle, friend…
How do we find strength to move beyond our tears? To simply smile at a memory?
How are we able to laugh once more?
10/16/16: Life has forever changed at Twin Cedars. Our mind is the only thing that can hear his laughter now. The warmest smile and his kindest words. Encouragement, praise and heartfelt banter.
Countless lives he's touched.
That laugh that could turn your worst day around.
How does life march on? Harold, we have beds to make. We have laundry to fold. We have lawns to cut and plants to water. Boats to bail and docks to paint. Countless pipes, water heaters and furnaces to fix.
How does one find words?
A beautiful autumn afternoon for his final time on earth, spent outside tinkering with machines. An ordinary day for an extraordinary life. A sudden passing…though we were blessed with one last beautiful moment.
"Hey it smells like breakfast in here!" Bacon sizzled on the stove top. 1:30 pm and we were finally ready to build our BLT's for lunch. Peeking outside I see a father and son having their usual chat. Bright eyes and giant smile, the way he greets everyone. Today as I busied with our meal I felt a small smile reach my face, thinking how these teeny, tiny specks in time are what matters most.
Returning to the house he spots the girls on a break from cabin cleaning and just as always would never pass up a moment to communicate his approval. This day it went something like this, "oh boy Kylee I'm so proud of you! You girls are just fantastic, what a great job you're doing!" A fast goodbye that we never knew would be our last. A quick visit, a small stop-by drive thru that we'll forever be grateful for.
That one last beautiful moment…
But this is how it always was with him. Whether an extended get together or brief hello, because perhaps he always knew that we just never know when…we never know how…we just never know…
We've learned something so valuable from this amazing man…Always part with your warmest words even on your darkest day. Deliver the best of your love from the deepest depths of your heart.
Someday we will smile upon a sweet memory but today our tears flow like the longest rivers through endless valleys.
As our family morns we appreciate your thoughts and prayers. We graciously ask for you to allow our family to be together but please know we will be in touch and always here at the Twin Cedars Resort.
10/23/16 update:
Due to the overwhelming amount of people that are affected by the passing of Harold we have changed the location of the service and some of the times.
Visitation: Saturday November 5, 2016 12 noon – 1:30 pm at Dodson Funeral Home St. Ignace, MI
Service: Saturday November 5, 2016 2:00 pm at Zion Evangelical Lutheran Church St. Ignace, MI
Meal following at the Trout Lake Township Hall 4:00 pm
We are completely humbled by all your support, prayers and thoughts. On behalf of our family I would like to express how every single written word of care and acknowledgment, whether by comment on Facebook, our website, phone call or text and cards of sympathy, means to us. We are so deeply thankful for each and every one of you…we have read every word and appreciate all of them more than you could ever know. We've had Judy here also. To say she was moved would be an absolute understatement, but I'm not quite sure how to put how she feels into words.
As many of you know Harold was never technologically inclined but I can still hear him saying, "Meghan and Bobby, you gotta get on that w w dot com!"
I can only imagine what he thinks of all this communication going on about him on the world wide web. But I can tell you this, he's likely getting a kick out of the fact that HE is the single most popular post we've ever written about.
Our most recent phone conversation:
Harold: "Hey Meghan, I'm sending in this paperwork with Deb's help and we have to use an email."
Me: "Ok, sure! Are you ready?"
Harold: "Yep"
Me: "m k l a v e dot r n at"
Harold: "Wait…at like A T?
Me: "No. At, like the @ symbol."
Harold: "At symbol? What the heck is that?"
Then I hear Judy in the background: "Oh I know what that is!"
These silly little conversations will be missed greatly. I ache for the day when Bob reaches for the phone to call him…because he did, often. Hold on to every moment…
Love, The Klaves'
Save
Save
Save
Save