You're packing for your rustic vacation. You know the basics. Your cooler is filled to the brim with all the yummy foods that you'll grill in the great outdoors. You're prepared for those pesky bugs. Armed with repellent and calamine lotion…do people still use that pink stuff I remember so well from my childhood? I picture little pastel polkas dotting your skin, willing yourself not to itch. You think you know exactly what you should load in the car but make sure you don't forget these cabin (or lake house or camping or up north…) getaway essentials!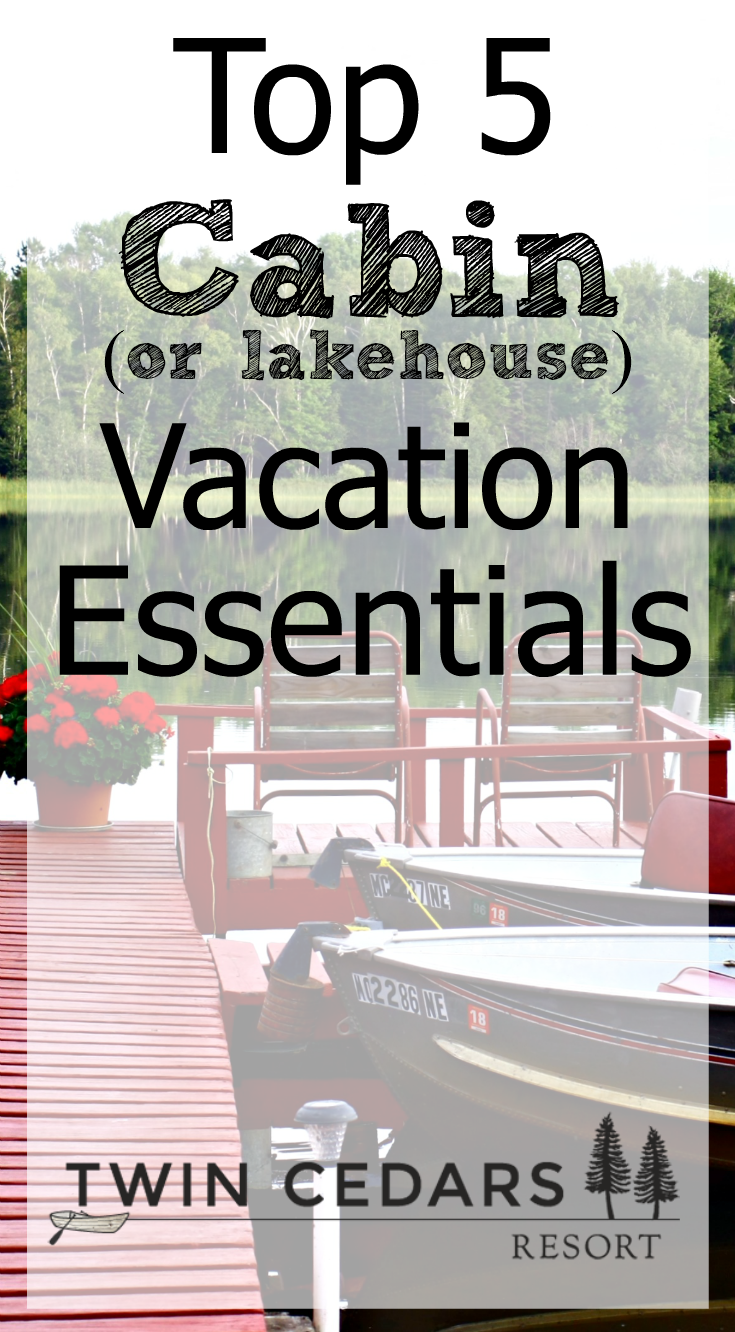 Top 5 Cabin Getaway Essentials you didn't think of!
This post contains affiliate links. This means that if you click through and make a purchase, The Twin Cedars may receive a small commission at no additional cost to you…we appreciate your support. Full disclosure here.
Polarized because if your anywhere in Michigan you'll likely be spending some time near the water. Polarized lenses allow for easier viewing in water, reduces glare and provides better sun protection for your eyes.
A decent pair doesn't have to cost too much. Although I will admit I've spent quite a bit in the past…remembering my perfectly fitting, prescription polarized lenses, sigh. Here's why I would recommend going with something a little more frugal for your first pair or 2. Mine? currently crushed from a loon watching photo shoot and careless foot placement – boohoo! Also, many stories are circulating around the resort of sunken specks and I'm sure the lake isn't giving them up anytime soon.
Many options can be found here and while you're at it you may consider keeping your new shades in place with these – hey no shame!
Cabin Getaway Essential #2 – Camera
Whatever suits your fancy. Whether your smartphone with camera adapters, point and shoot or a great DSLR, just don't forget it and make sure you have a tether for that too!
Our wildlife is a-plenty in these northern parts and with all the fun you'll be having, it's going to be a must to capture those great memories to share for years to come. Follow along with our Instagram feed for some wildlife, outdoors and lake-life inspiration. I'll admit I'm not the best photographer but it sure is fun to be clicking away out there.
Cabin Getaway Essential #3 – A Good Book
Chances are good that you won't have great cell reception, if at all, let alone wifi. So soak up the sites, sounds and prepare for the slow down. Immerse yourself in a fantasy land, thriller, good ghost story, mystery, romance or non-fiction of your choice.
My personal most recent reads: this (adult only!) and this one and that one.
*Bonus, bring a journal and start your own story. Writing can be very therapeutic and with the disconnection from tech you may find yourself beautifully inspired.
Cabin Getaway Essential #4 – S'mores
An outdoor campfire tradition! S'more – a sweet snack consisting of a chocolate bar and toasted marshmallows sandwiched between graham crackers. You may be surprised how many people have never heard of them or even tried one. Make it gourmet with dark chocolate, Reese's PB cups or Mounds for the coconut lovers. Kids from 2 to 102 can use their imagination to create something special. Get your perfectly toasted marshmallow using these.
While this is not necessarily a must have "item," it's definitely a  must do! And remember, this is Michigan's Upper Peninsula, where the weather changes more often than a toddler changes their food preferences. So pack for all of it! Warm, cold, raining or shining at least you'll be prepared and sort of know what to expect.

Now that you're equipped with Our Top 5 Cabin Getaway Essentials, sign up using your email and get your own handy Packing Checklist FREE!
---
Related posts:
MI's Upper Peninsula Bucket List, 50 things to do
Morel Mushroom Hunting: 10 tips you may not know
Outdoor Activities for Springtime in Upper Michigan
Wolf Facts: what you should know in MI's U.P.
Save